De titel Europese sporthoofdstad wordt jaarlijks toegekend door ACES Europe, de Europese Vereniging van Sport en Gemeenten. Den Haag heeft de titel overgenomen van het Portugese Lissabon en mag zich in 2022 een jaar lang de sporthoofdstad van Europa noemen.
How do we create sufficient, sustainable, diverse and healthy sports opportunities in cities and urban environments?
The municipality of The Hague is hosting the European conference onspace for sports in urban areas, celebrating the title of European Capital of Sports 2022 awarded by ACES Europe. We are pleased to invite you personally.
The conference on how we create sports opportunities in cities and urban environments will be held in The Hague, The Netherlands on Friday 23 September 2022. Followed by the third meeting of the Eurocities Working Groups on 'Sustainable, healthy and inclusive cities through sport' where the proceeds of the various digital work conferences are shared, and the manifestos are finalized on Saturday morning 24 September 2022.
These one and a half day of high-level conferences, working visits and networking moments allow you to meet the participants in a more informal setting and learn from each other.
Friday 23 September 2022
We believe in the power of sport. Sport connects, inspires and activates people. However, space in cities is becoming increasingly scarce. Due to growth of urban population, more housing and facilities are required, while the available space within the boundaries of the city does not increase. Is it possible to reinforce sport inside urban environments, instead of pushing it away because of large space utilization? How do we exploit the potential of sport in a multifunctional, compact and urban environment? And how do we ensure that the sporting space is attractive to all residents (regardless of age, gender, (migration) background or income)?
During the plenary session in the morning, David Eades – one of the most familiar faces on BBC World News – will be our moderator.
Together with urban designer, planner, researcher, expert in the field of sport in urban areas Daniel Casas Vale we'll discuss the challenges and opportunities of sport in urban areas. After that, Peter van Veen, director of Sports municipality The Hague, will elaborate on how The Hague finds urban Space for sports, sharing contemporary and long-term challenges.
To reflect upon this, we introduce our panel who'll share their unique perspectives on space for sports. You're invited to actively participate in this discussion and ask your questions.
In the afternoon we visit various sports places in the Hague. We combine the subject space for sports in urban areas with inclusion, sustainability, healthy lifestyle and future needs. We´ll discuss three of them.
The Hague Sports Garden – de Haagse Sporttuin 
The Hague Sports Garden (neighbourhood 'Schilderswijk) is a multifunctional sports complex of 2000 m2 in a vulnerable social area where children have a safe place to be active and can develop optimally both motorically and socially.
The Hague Sports Garden is set up by primary school teachers who, in collaboration with social institutions in the neighbourhood, exclusively organise sports activities. They cooperate as much as possible with sports associations and neighbourhood organisations such as community centres and neighbourhood sports clubs.
Central question for The Hague´s policy is how to create an environment, within a vulnerable social area, where space is scarce where everyone can join and participate in sports?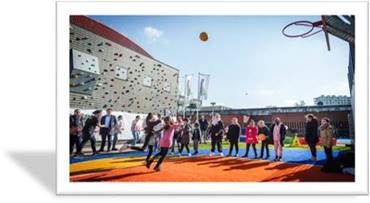 Two garage halls turned into the epicentre of the Dutch Urban Sports (Olympic skateboard, bouldering, free running, CrossFit, breakdance, speed soccer and more).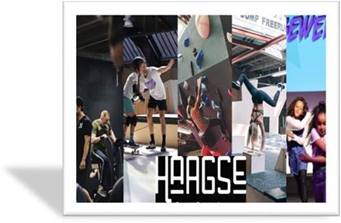 The two former garage halls had been on sale for a long time, when the skateboard federation applied for aspiring membership of the National Olympic Committee. The municipality The Hague had the ambition for a third Topsport centre. Then puzzle pieces started to fall together. The accommodation is home to Olympic heroes of the future, and we educate students to become tomorrow's Urban Sports leaders and sports entrepreneurs.
Central question for The Hague´s policy is how to ensure future proof sports facilities? 
At the Haagse Sport Centrale, we conclude with a presentation of Sportpark Escamp where due to urban planning and housing, the available space for this sport park has decreased. How are we able to maintain an attractive sports area?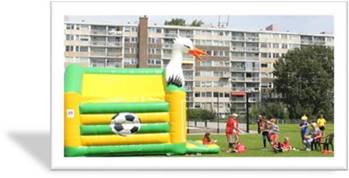 We end day one with a dinner at the beach and provide the possibility to visit Beach Stadium.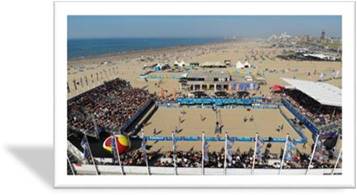 Saturday morning 24 September 2022
Eurocities on local sports policy – From good, to better, to excellent
How do we create commitment to put sports for all and sports for a healthy and sustainable society at the heart of local policies in order to make cities strong advocates for an inclusive and vital development in Europe?
In February 2022 members of the Eurocities working group 'Sustainable, healthy and inclusive cities through sport officially' kicked-off. Under the umbrella of Eurocities and with support of ACES Europe and the Association of Sports and Municipalities (NL) members shared their knowledge and have drafted manifests prepared on 4 themes:
Sport and HealthyLifestyle4all
Inclusive cities through sport
Urban sports and planning
Sport and sustainability: greener facilities, greener events, ant sport and green tourism
Each manifest is a statement and encourages action. During this annual meeting the proceeds of the various working groups are shared and participants' input will be used to improve the final version of the manifests.
The official declaration with 4 manifesto's will be handed over to representatives of the EU.
We end with a network lunch. 
COVID-19
We still live in uncertainty when it comes to COVID-19. Of course, we hope that the restrictions due to COVID-19 remain limited and that we can organize and meet as we have done in the past. Where possible, preventative requirements are in place to provide you with safety and comfort during the congress. During the congress, the locations are large enough to keep distance if needed. The safety requirements regarding COVID-19 will be enforced in line with the regulations of the Dutch government. And if the threat increases as much that it is not allowed or responsible to physically organize this congress, we provide you with an alternative solution.
Dress code: to promote a sporty lifestyle and due to the accessibility of the venues we kindly ask you to wear comfortable shoes/ sneakers.
About The Hague; the city of peace and justice
The Hague is a special city. It is the only large Dutch city on the coast where it still feels like a village. The Hague has a rich history. Generations of residents have made The Hague into a beautiful city with many qualities. Besides being the sports city by the sea, The Hague is also the international city of peace and justice, where people work on innovations for a better world. The Hague has a variety of residents from different backgrounds and different kinds of neighborhoods. There is something unique to discover in every neighborhood. You can visit the city centre, the Peace Palace or one of the beautiful museums. In addition, you can enjoy a fresh herring with onions or other freshly caught fish at shops and restaurants in Scheveningen.
We – the municipality of The Hague, ACES Europe, Eurocities and the Association of Sports and Municipalities (NL) – hope to see you in The Hague.